My Team
As a financial advisor for the Northwestern Mutual, I am committed to helping my clients whether they are concerned for their own financial needs or those of their family or business. I don't do it alone. With the support of a dedicated staff, we stand committed to providing you the best client service possible.
My team members have very diversified background and can serve muti-cultural and multi-ethnic clientele. Besides English, I can assist my clients in Japanese. Adriana speaks Italian and German fluently. Haley handles some Chinese. My team is truly diversified professionals who share the same philosophy and goal, which is to conside client's priority as our priority.
If you have a problem or need assistance, please let us know any time.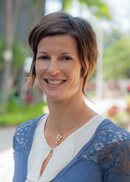 Adriana Dalla Via-Sena
Adriana is originally from Verona, Italy but she has been in the United States for over a decade and has been living in Hawaii for the last 9 years. She is married to her husband Chris and together have 2 young children: Aurora and Lorenzo.
She has a Master's Degree in German and English Literature from the University of Verona in Italy; she always taught Italian in schools in San Francisco where she used to live, however, simultaneously, she also started her career in the Financial Industry in the city in 2006.
Adriana loves to travel and spend spare time outdoor with her family by hiking, swimming, going to the beach and anything active. When time permits she goes to yoga sculpt classes.